Fall at Givenchy is starting off with a bang! In addition to the launch of these gorgeous products, they are also revamping their entire display at Sephora. I have a few new products from their fall line to share with you. All of these products will be on counter as at October 21, 2016, so keep your eyes out!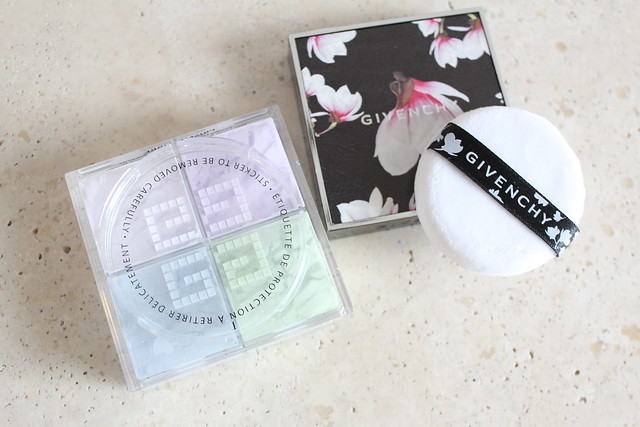 Let's jump right into the most exciting products this fall – the Edition Couture Prisme Libre and Le Rouge lipstick. Every year, Givenchy releases its iconic products in limited edition packaging, and this year, it features its cult favourite Prisme Libre, which is a loose powder that contains four different shades of powder to help brighten and even out the skin tone, as well as its much-loved Le Rouge lipstick, in limited edition, floral packaging.
The Prisme Libre (C$66) shade is No. 1 Mousseline Pastel, the universally flattering variation that contains green, blue, soft peach, and purple-toned powder. The powder is super finely milled, and the shades blend in beautifully on the skin without actually looking green or blue. I like to compare this against my favourite Guerlain Meteorites powders, and I find that this one is more colour-correcting, i.e., you get more of a brightening effect through the colour-correcting powders, instead of through glow, as with Guerlain. They both serve different purposes, and I find myself reaching for this one if I have a bit more time to blend and play, or if I want a more colour-balanced and mattified look instead of a glowy look.
I am a BIG fan of Le Rouge lipstick (C$44) – they are an extremely comfortable semi-matte formula that was one of the first matte lipstick formulas I fell in love with. The shade that is featured with the Edition Couture is No. 306 Carmin Escarpin, an intense orange-toned red. The colour is seriously gorgeous – a true one-swipe wonder. It is also ultra long-lasting, wearing over 6 hours before a reapply is needed (and this is with drinking and light snacking). The case of the lipstick is made of real leather, and it is interchangeable, so you can use it on your choice of shade. Sadly, I'm not a fan of orange-based reds because I find that they make my teeth look more yellow, although I know I will be using that lid with my other Le Rouge lipsticks.
Le Rouge Perfecto is a brand new product for fall. It's a three-in-one formula that is a balm, a lip maximizer, and a lip tint in one. It reminds me of Dior Addict Lip Glow, which is a cult favourite product, in that it is a very hydrating, balmy product that also gives the lips a natural pink tint. I like to keep this at the office to use as a balm and light tint in one – it's perfect for those conservative work environments where you don't generally see people wearing lots of makeup. The case is genuine leather, and looks ultra classy and luxurious.
The Givenchy Prisme Visage (C$57) is one of their most well-known products, so much so that a lot of smaller beauty companies have copied this quad-powder design (cough Marcelle). For this fall, it was revamped with five new shades (available in Canada, there are more shades available internationally). The shade I have is No. 5 Soie Abricot, which is good for those with light to medium skintones. This powder was designed to help brighten, structure, and mattify the skin.
I previously reviewed their summer Healthy Glow powder which has a gel-powder formula. The Prisme Visage has a completely different formula that's very powdery and very creamy, designed to offer a light dusting of powder on the skin to blur any pores and lines, and create a very lightweight finish. The texture is super soft, and the powder blends in very easily with the rest of the makeup. You can technically wear each shade separately, but the pan is quite small so I prefer to just mix the four shades together and dust it evenly on my face. I find that the difference in each of the shades is not very obvious once it applies on my face, so I don't get a very sculpted finish even if I do use each shade separate.
It also comes with a separate brush, that sits in a tray that goes neatly on top of the powder. This one is soft and works to sweep the powder on the skin, but as with most included brushes, they aren't the most useful if you have normal sized brushes at home that you can use.
Lastly, we have the Khol Couture Waterproof (C$30), available in six new shades. The shade I have is No. 2 Chestnut / Brown. Holy crap this eyeliner is so creamy, pigmented, and very easy to apply. It just glides on! Long story short, though, it does smudge on me, as I have relatively oily eyelids. In addition to the Chestnut, and the classic Black, there is also a Turquoise, Cobalt, Jade, and Lilac.
All of these Givenchy fall 2016 products will be available as at October 21 at Sephora, in stores and online!
The swatches
Givenchy Prisme Visage in No. 5 Soie Abricot
Givenchy Khol Couture Waterproof in No. 2 Chestnut and Le Rouge Lipstick in No. 306 Carmin Escarpin
The products featured in this post were provided by PR; all opinions are my own.