For summer 2016, the House of Givenchy is introducing two new products to help you achieve a healthy glow. Givenchy Summer Les Saisons Healthy Glow Powder and Les Saisons Mister Radiant Bronzer are new for April, 2016.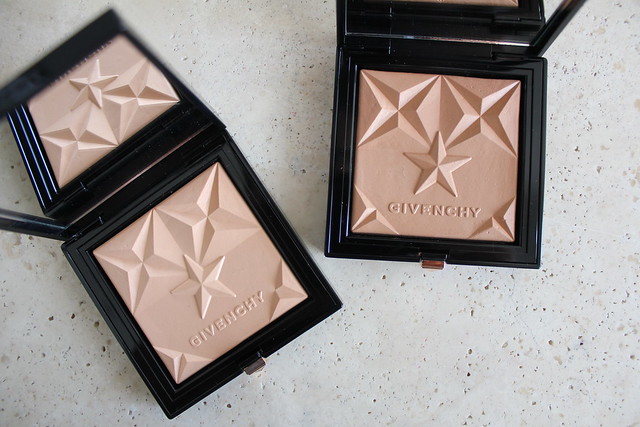 The Les Saisons Healthy Glow Powder (C$60) is a relaunch of a popular prior year formula. This Healthy Glow Powder is a gel powder that's talc-free and goes on like second skin. The two new shades for 2016 are 01 Premiere Saison and 03 Ambre Saison, both of which I have to show you. I wouldn't exactly call these bronzers, but depending on your skin tone, you can use these either as an all over powder, or as a bronzer. Both of these are matte with a bit of a satiny glow, so you get that healthy glow without artificial shimmer or glitter.
The shade 01 Premiere Saison is a great match for my light skintone and offers an incredible wash of colour that warms up my entire complexion. I wear this as an all-over powder, either alone or over foundation. The talc-free gel powder texture is pretty cool – you don't get dusty powder flyaway, and the powder adheres and just completely melts into the skin. There's absolutely no streakiness or powdery look here. 03 Ambre Saison is a dark colour, and I can use this either as a bronzer, or something with a darker complexion can wear is as an all over powder.
I'm also completely in love with this packaging as well. You get a very sleek, modern black compact with rose gold details. It doesn't come with a sponge or brush, so it's not the most travel friendly, but if you wanted to pack your own sponge, there's a black plastic tray that sits on top of the powder that would allow you to separate a thin sponge from the powder.
Givenchy is also introducing the new Les Saisons Mister Radiant Bronzer (C$48). This is pretty cool – you basically get coloured bronzer spheres suspended in a clear gel. There are both bronze-toned and gold-toned colour spheres so that you get multidimensional colour, once the spheres are blended out. The texture of the gel is lightweight, and slightly cooling. A little bit goes a long way, and you're able to get a very natural-looking glow with each use. It washes off, and does not tint the skin, so you can change up your look day by day.
I really love the Healthy Glow Powders, and I can see myself using this to touch up my face during the day because it brings some energy and life back to my complexiopn. The Mister Radiant Bronzer is something I probably wouldn't use every day, but it would be great for when you have more time to spend on your makeup for a special occasion.
Both the Healthy Glow Powder and the Mister Radiant Bronzers are available now at Sephora.
Swatches
Les Saisons Healthy Glow Powder in 01 Premiere Saison and 03 Ambre Saison, and Les Saisons Mister Radiant Bronzer
The look
Wearing Les Saisons Healthy Glow Powder in 01 Premiere Saison on face